Art within art, with an unpredictably gamified life of its own.
ArtVndngMchn Logo is rare digital art by Joe Chiappetta, available on AtomicHub.
The first thing to understand about ArtVndngMchn is that it is a multifaceted art project. As soon as a community member tries to describe it, they are simultaneously correct–yet leaving out so much. That's because ArtVndngMchn has never been about just one thing.

Park Afternoon is rare digital art by famly.photo, available on AtomicHub.
In fact, ArtVndngMchn is many things. Like our lives, it has multiple dimensions. Yet all of ArtVndngMchn's aspects are art-related and shepherded by Joe Chiappetta, having been in the crypto art space since 2015, and a cartoonist since the mid-1980s.
So what are these many things that have become ArtVndngMchn?
Images of various objects that spit out artwork. Essentially we are talking about artworks within artworks.
Digitally wrapped and randomized packages of fine art NFTs from over 20 international artists. ArtVndngMchn was the first to do this with fine art NFTs. These artists include Bruce Bachelder, Paul Baldwin, Anna, Denise, Joe and Luke Chiappetta, Beth Cohen, famly.photo, Donna Fenton, Caleb Hudson, ilan Katin, Isa Kost, Jen Lazaro, mBlu, Laerth Motta, Sean O'Kana, Holly and Mike Rende, Robness, Rare Scrilla and Rare Scrilla Jr., Vanesa Stati, Fabi Yamada, and Marko and Dunja Zubak.
ArtVndngMchn fine art NFT packs available on AtomicHub.
A 3D virtual gallery and entertainment game space called ArtVndngMchn Amusement Park, experienced through a Minecraft server called The Uplift World in their Gratitude map at coordinates 3320, 2370.
Sunrise Over ArtVndngMchn Amusement Park is rare digital art by Joe Chiappetta, available on AtomicHub.
NFT assets that can be used as disposable ingredients to acquire new fine art NFTs through a process called blending in Neftyblocks. Totally California Window Scene is rare digital art by Joe Chiappetta, available on Neftyblocks.
An art project used to raise money for the poor through MERCYworldwide.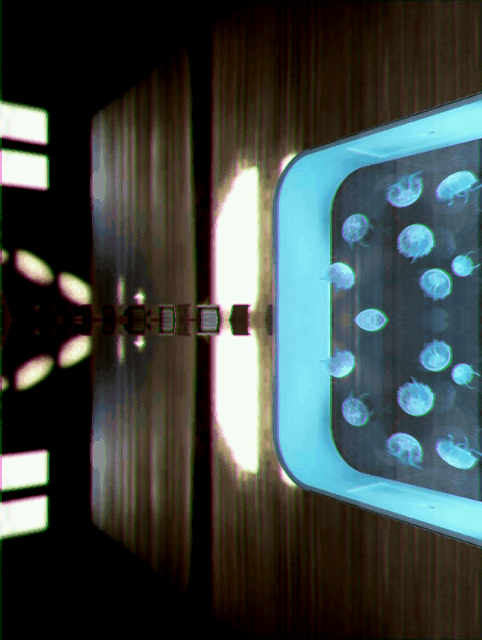 Sea World is rare digital art by Luke Chiappetta, available on AtomicHub.
Drilling down into these varied components of the project, it is also accurate to say that ArtVndngMchn is…
An Artwork Theme
An NFT Collection
A Game
A Metaverse Event Destination
An Art Performance
A Metaverse Rollercoaster
And more.
ArtVndngMchn Origins
Solidified under the project name "ArtVndngMchn," the series is widely known as launching May 2021 on the WAX blockchain, consisting of hundreds of different fine artworks as NFTs. However, in the generic sense, art vending machine paintings and drawings released as NFTs by Chiappetta can be traced back much earlier.
Crypto-Art ATM is rare digital art by Joe Chiappetta, available as part of the CrystalsCraft Collection in the early years of NFTs on Counterparty.
In 2018, early versions of art vending machines were created on Bitcoin/Counterparty, and later on Ethereum as well as EOS blockchains prior to the project's release on WAX.
In an even bigger-picture sense, ArtVndngMchn is a statement of human artistic development and progression. The order goes something like this:
As it relates to fine art, the internet started as an art catalog.
Then it became an art market via online ordering and shipping.
Then it became an art creation tool through sites like Dada.art and others.
Then, through the invention of rare digital art (later called NFT), the internet became an art vending machine.
Finally, through the merging of all of the above, the internet became an art metaverse.
Inside the ArtVndngMchn Amusement Park, where 2 virtual rollercoasters end.
What happens next is anyone's guess, but ArtVndngMchn is here to stay.
Follow joeychips on Twitter for the latest ArtVndngMchn news!